With the ever-increasing popularity of music videos, more and more artists are looking to create the perfect visual accompaniment to their latest tracks. Enter the expert music video animators. These talented professionals are adept at creating stunning animated visuals that bring music to life like never before.

Whether you're looking for 2D or 3D animation, 4k video maker, motion graphics, explainer videos or any other type of video animation, there are plenty of freelance animators out there who can animate your project to perfection. And with the rise of video marketing, a well-produced music video can be instrumental in getting your music noticed by the right people.

Finding the right animator for your project can be a daunting task, so we've compiled a list of 18 expert music video animators for hire to help you bring your vision to life. From creating storyboards to adding the finishing touches, these animators have everything it takes to create a visually stunning music video that perfectly complements your sound. So if you're looking to create an animated video that will take your music to the next level, look no further than these expert animators.
18 Best Music Video Animators For Hire
To make your job easier we have listed all the best video animators from top rated to newcomers. So you can decide which is the best for you. Also, we have given some of our top recommendations based on their portfolio and experience.
Our Top Suggestion
Top Rated Video Animators For Hire 
1) Raghnalltuathai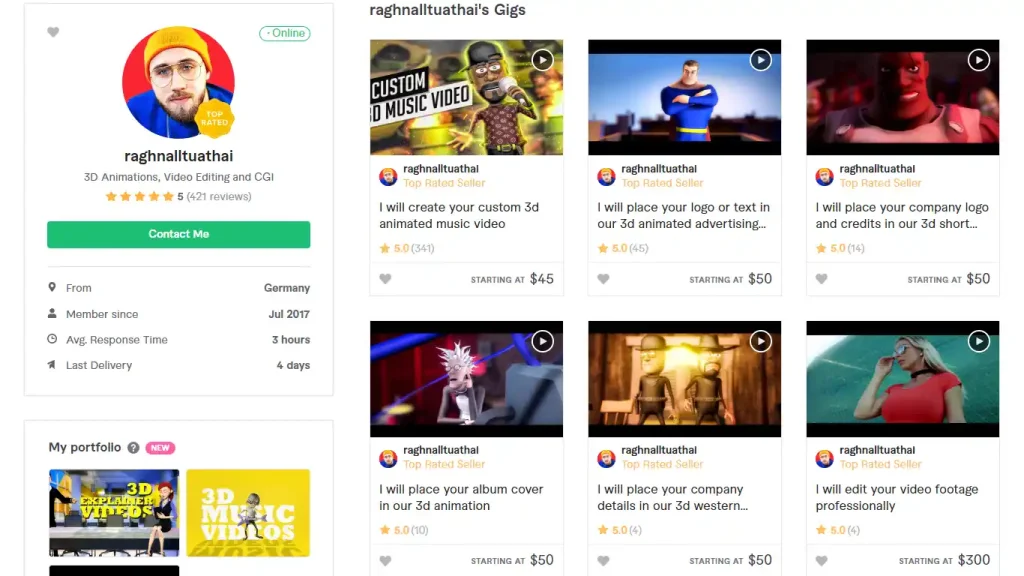 Raghnalltuathai is an experienced 3D animator, video editor, and CGI artist. With over five years of professional experience in the industry, he is your go-to when it comes to quality animations, video editing, and CGI projects. As a top-rated freelancer seller on Fiver Raghnalltuathai has been a member since July of 2017 and is known for fast response times, averaging only three hours.
He is proficient in English and German and can produce professional quality animation, video editing, promotional videos, CGI, visual effects, and even music video production and animation. His projects can be seen in a portfolio, and the quality of their work is always impressive.
Right now, he is a top-rated seller and service provider and has 421 reviews with a 5-star rating. This displays his quality of work and client satisfaction.
He has produced animations, videos, and CGIs that range from commercial marketing videos to custom animations for music videos, to even branded animations and promos.
Regardless of the video or 3D animation project you have in mind, Raghnalltuathai will bring their expertise and creativity to the table. With a commitment to quality, they guarantee that all projects are finished on time with complete customer satisfaction. Get your project done quickly and professionally by hiring Raghnalltuathai today!
Services Offered by Raghnalltuathai :
2) Skotiskoti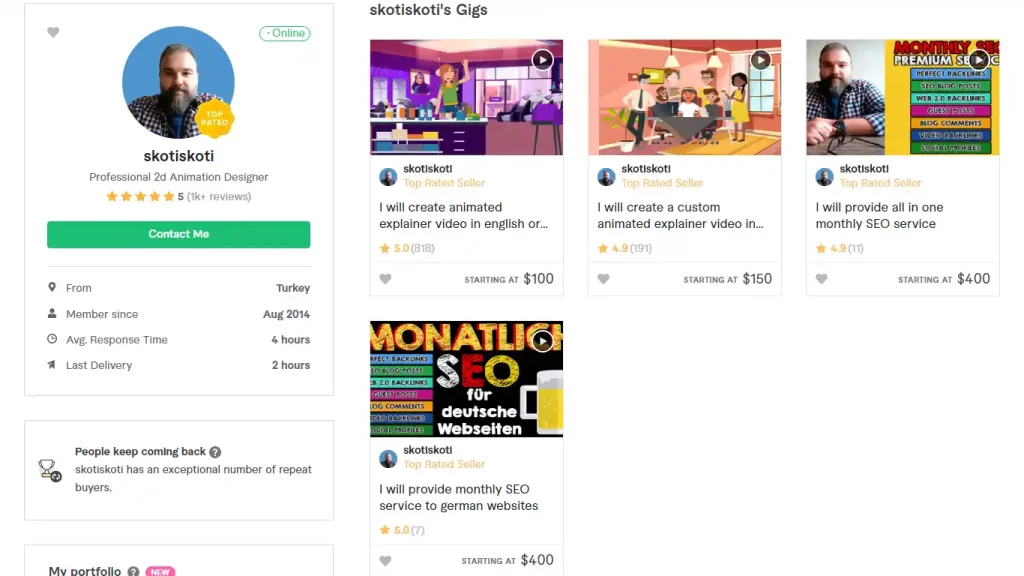 Skotiskoti is a web agency that offers 360-degree services. Backed by a core team of six passionate professionals, they offer more than just your run-of-the-mill services – they go above and beyond when it comes to delivering quality.
Skotiskoti is a Fiverr member Since Aug 2014 and has an impressive 5-star rating with 290+ reviews, testament to their expertise. They have been consistently rated for delivering high-quality results and solutions to their clients as well as reasonable average response time.
Skotiskoti is based in Turkey and is fluent in both English, German (Deutsch), Turkish and Arabic. They specialize in web design, web development, content creation and software development. They offer personalized support for businesses and individuals and can create custom software solutions tailored to their customers' needs.
Skotiskoti also prides themselves on their extensive portfolio of successful projects. They have worked with companies across a range of industries such as real estate, healthcare, fashion and finance as well as governmental organizations. Their projects have included videos for promotional purposes, landing pages for new products, elegant UI/UX designs for internal applications, websites for startups, e-commerce solutions, corporate intranets and mobile apps.
Skotiskoti also offers post-delivery support, such as bug fixes and feature modifications, to ensure their customers are always getting the most out of their technology. They have a dedicated team of professionals who can provide immediate feedback, offer technical assistance, and provide comprehensive guidance. In addition, they guarantee a prompt and satisfactory response to your requests, and they strive to achieve an average response time of 24 hours.
Services Offered by Skotiskoti:
3) Rahulkajla1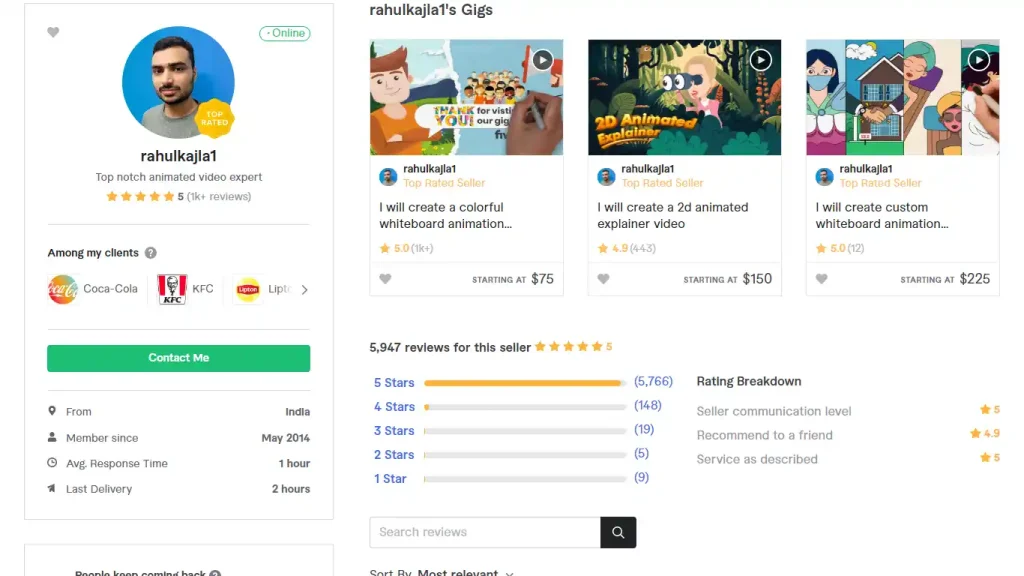 Rahul is a highly skilled, experienced, and Fiverr top-rated animation creator who has worked with various businesses, large and small. He's well-known for his ability to help individuals understand difficult ideas in a simple-to-understand manner, as well as his top-quality animation work.
Rahul's skills include creating animated explainers, 2D animations, and whiteboard videos. He also holds a degree in information technology from Sikkim Manipal University which gives him the background knowledge to produce top-notch visuals regardless of the client's budget or needs.
He has been providing animation services on Fiverr for over two years now, he knows exactly what works and what doesn't, and he is always willing to work with clients to find the best possible solution for their specific needs. He has received 1,000 reviews with a 5-star rating, which showcases his reliability and ability to produce top-notch visuals.
Rahul is proficient in languages such as English, and Hindi. KFC, The Coca-Cola Company, Fiverr, Sysmex, CIBC, UPCI, NDIS, and other well-known businesses and clients have also hired him. You can also check out his portfolio to see some of his previous work. This will give you an idea of the types of videos and animations he can create for your project.
Services Offered by Rahul:
4) Daisyjasmeen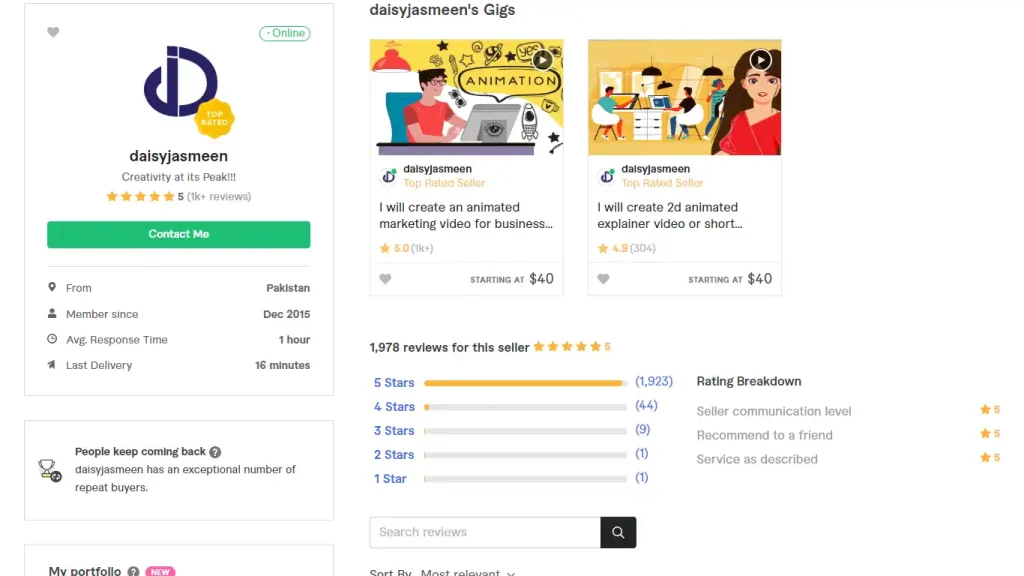 Meet daisyjasmeen, a TOP RATED seller on Fiverr who brings "Creativity at its Peak!!!" to all her animation projects. With a proven track record of delivering top-notch animated videos for businesses across various industries, she has earned an impressive 1k+ reviews with 5 stars.
Based in Pakistan, daisyjasmeen has been a Fiverr member since Dec 2015 and boasts an average response time of just 1 hour. Her team of highly talented creatives has the skills and expertise to bring your ideas to life in a unique and engaging way.
They specialize in 2D animated explainer videos, whiteboard animations, and kinetic typography videos. They use their animation skills to help you drive leads and increase sales for your business. With proficiency in English and Urdu (اردو), daisyjasmeen is able to communicate effectively with clients from all around the world.
Her skills include Whiteboard Animation, 2D Animation, Adobe Illustrator, Adobe After Effects, Adobe Photoshop, and Short Film Production. If you're interested in her services, she encourages you to explore her gig offerings and contact her without hesitation.
Her portfolio is also available for viewing, where you can see the quality of her work firsthand. So, if you're looking for a highly talented creative team to bring your ideas to life, daisyjasmeen is the perfect seller for you on Fiverr!
Services Offered by Daisyjasmeen:
5) Ricky8001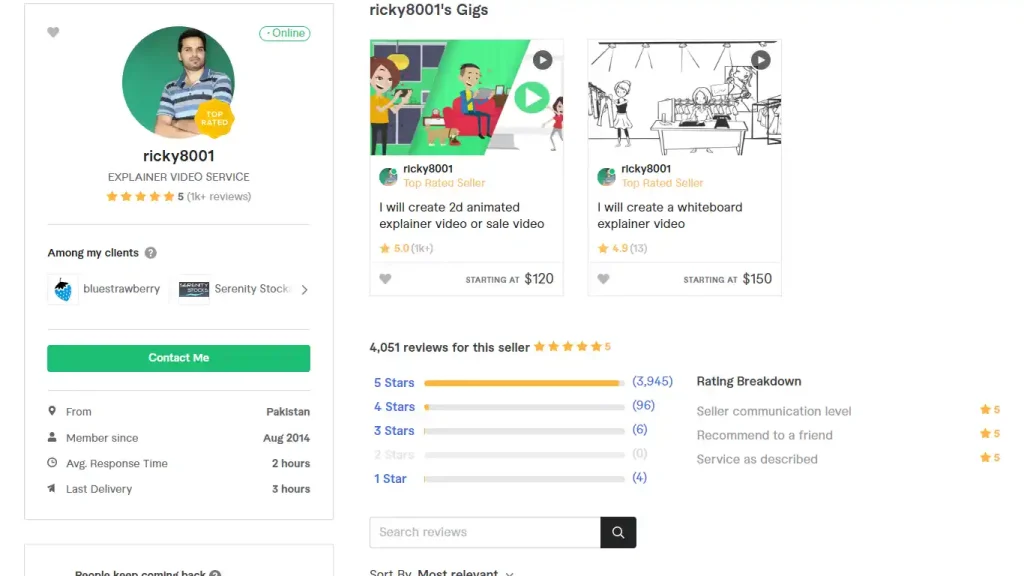 Meet ricky8001, a TOP RATED seller on Fiverr who specializes in EXPLAINER VIDEO SERVICES. With over 1k+ reviews with 5 stars, ricky8001 has established a reputation as a skilled and reliable video creator. Based in Pakistan, he has been a member of Fiverr since Aug 2014 and boasts an average response time of just 2 hours. He has created more than 3 thousand videos in the last 6 years and is always excited to assist you with anything related to explainer videos.
Ricky8001 has a diverse language proficiency, which includes English, Urdu (اردو), Hindi (हिंदी), and Punjabi (ਪੰਜਾਬੀ), making him an ideal seller for clients from all over the world. His skills include Explainer Video, Whiteboard Animation, Video Production, Video Creation, 2D Animation, and Character Animation. He holds a degree in B.A. Accounting and Finance from Punjab University, Pakistan, Graduated 2012.
If you're looking for a skilled and reliable seller who can help you create top-quality explainer videos, look no further than ricky8001 on Fiverr. He has a portfolio available where you can see the quality of his work firsthand. So, don't hesitate to explore his gig offerings and contact him for your next project. You won't regret working with ricky8001 as he always puts his heart and soul into every project he works on.
Services Offered by ricky8001:
6) Piximove – ( Music Video Production Company )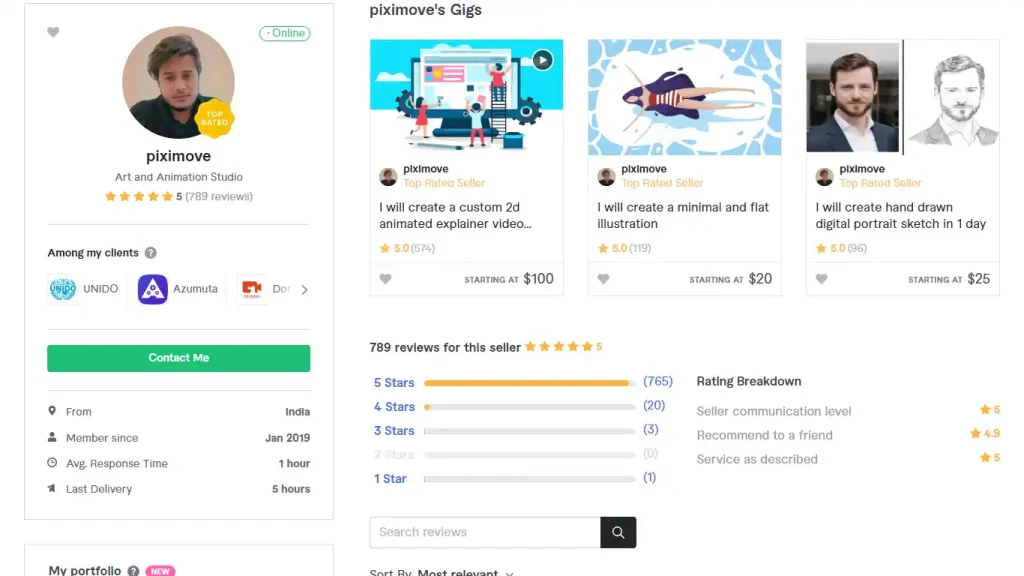 Piximove is a group of highly skilled and creative professionals who specialize in providing exceptional art and animation services to clients around the world. With a passion for solving problems and a love for tackling challenging tasks as a team, they offer a wide range of design and animation services that are sure to impress.
Their services include all kinds of poster, flyer, and brochure designing, informative business card design, explainer videos of premium quality, animated ads, whiteboard animation, and digital painting services for portraits and caricatures. They have a strong portfolio that showcases their talent and versatility across a range of industries.
With an excellent command of Adobe Photoshop, Adobe Illustrator, Adobe Premiere Pro, Adobe After Effects, and other graphic design and animation software, Piximove is able to produce top-notch work that meets the highest quality standards. Their skills include explainer video creation, portrait drawing, whiteboard animation, video editing, flat illustration, and 2D animation.
If you're looking for a highly experienced and talented team of artists and animators who can bring your ideas to life, music video production company Piximove is definitely worth considering. 
Services Offered by Piximove :
Level 2 Video Animators For Hire
1) Legend_musician (Ravinder Singh)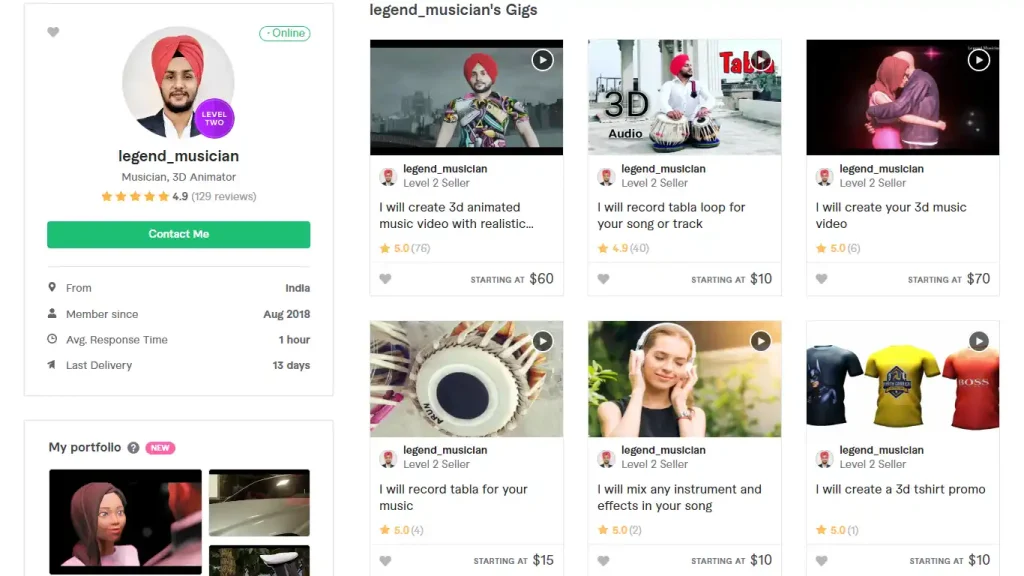 Meet Ravinder Singh, a professional musician and 3D animator based in India with a Level Two Seller status on Fiverr. With over 50 compositions done on Fiverr and more than 5 years of experience in animation, Ravinder is a top-rated seller who provides exceptional services to his clients.
Ravinder is an expert in playing the Tabla, an Indian percussion instrument that has a prominent role in traditional Indian music. He has been playing the Tabla since 2009, and he has incorporated this skill into his music services offered on Fiverr. He has done more than 50 compositions on Fiverr, and he uses Focusrite and Ahuja (Dynamic Mic) microphones and interfaces for recording.
Apart from his music skills, Ravinder is also proficient in the field of animation. He specializes in creating character animated videos, website explainer videos, product designing, VFX motion tracking, and other related services. He has a keen eye for detail and delivers exceptional animations that meet and exceed his clients' expectations.
Ravinder is fluent in English, Hindi, and Punjabi, making it easy for him to communicate with clients from different regions. He has a certificate in Tabla from Kabul University, India, which showcases his dedication to his craft and passion for learning and improving his skills continually.
If you're looking for exceptional music or animation services, Ravinder is your go-to person. He has a portfolio available on his Fiverr profile, showcasing some of his previous works. With an average response time of one hour, you can be sure to get a timely response and excellent services from this top-rated seller.
Services Offered by Ravinder:
2) Shahriyarshahid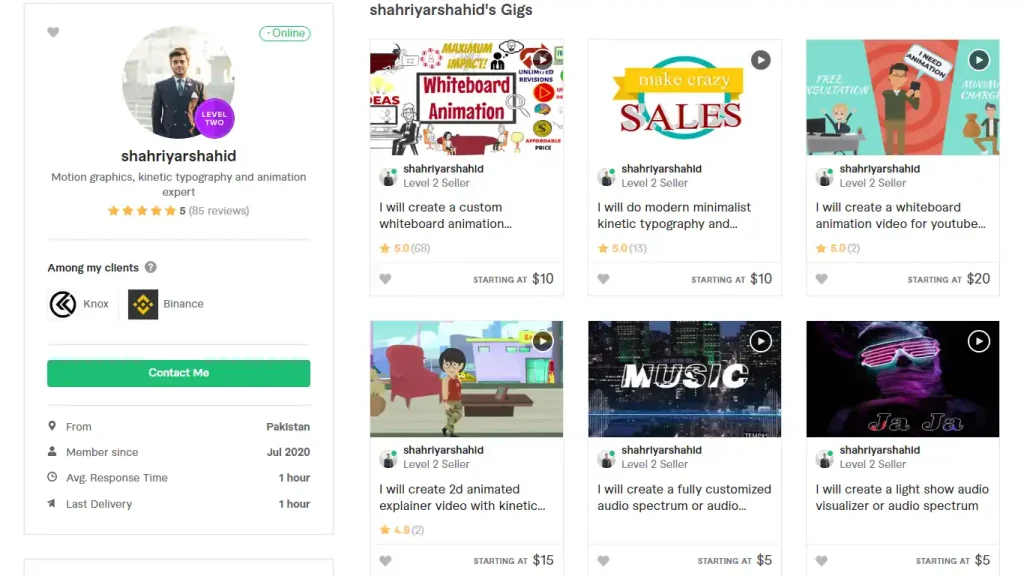 Shahriyar Shahid is a motion graphics, kinetic typography, and animation expert from Pakistan. He has been working in the industry for four years and specialize in audio visualizer and kinetic typography within motion graphics. He promise their clients top-notch, unique, creative, and purpose-serving animations at an affordable price.
Shahriyar is a Level Two seller on Fiverr and has 84 reviews with a perfect 5-star rating. He has been a member of the Fiverr platform since July 2020 and have an average response time of 1 hour. He is fluent in English, Urdu, Spanish, and German, and their skills include whiteboard explainers, whiteboard animation, 2D animation, motion graphics, kinetic typography, lyric videos, music video animation, and Adobe After Effects.
Services Offered by Shahid:
3) Miguelblanco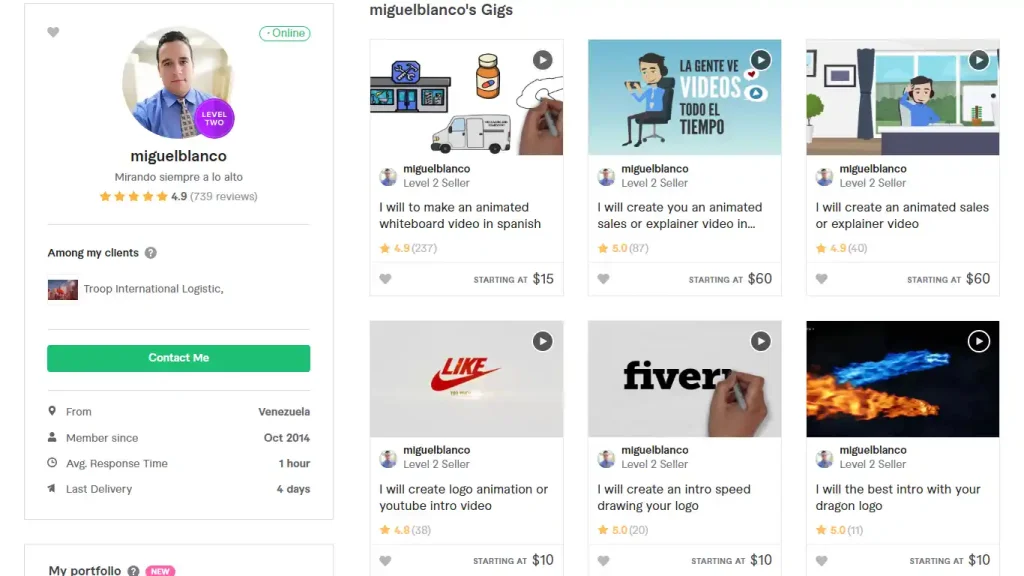 Miguelblanco is a Level Two Seller on Fiverr, hailing from Venezuela and possessing an impressive track record with 739 reviews at a 4.9 rating. He is a professional who is always looking upward in his career, as his Fiverr profile describes. 
He has been a platform member since October 2014, showcasing his experience in the field of online work. His average response time is only an hour, indicating his commitment to prompt communication with clients. Miguelblanco can speak English, Spanish, German, and Italian, making him a versatile communicator.
His diverse skills range from animation and graphic design to social media marketing and video editing, all of which are available in his portfolio. You can check his demo videos to understand the what level of quality work he offers. According to his profile description, he loves his work and is passionate about helping people, which bodes well for anyone looking to hire him for their projects.
Services Offered by Miguelblanco :
4) Folarinpearse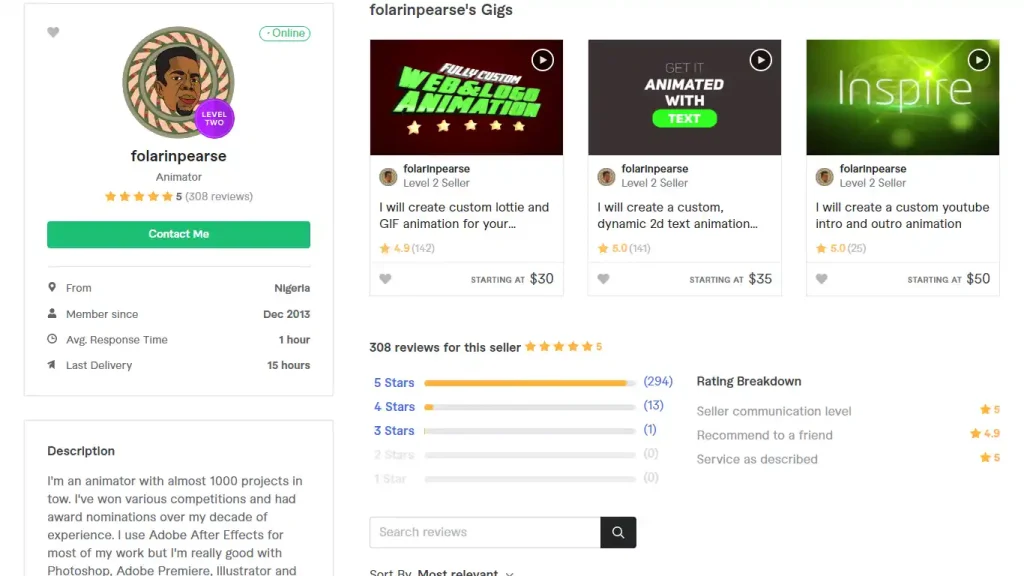 Meet Folarinpearse, the talented animator extraordinaire on Fiverr! As a Level Two Seller, he's got 308 reviews, all of them perfect 5-star ratings! He's from Nigeria and has been on Fiverr since December 2013, so you know he's got tons of experience under his belt. He's super responsive, usually getting back to you within an hour, which is amazing.
Folarinpearse loves what he does and has almost 1000 projects under his belt. Plus, he's won lots of awards and nominations in his decade of experience, which is pretty impressive if you ask us! He uses Adobe After Effects for most of his work, but he's also a whiz with Photoshop, Illustrator, and Cinema 4D.
Oh, and did we mention he speaks English? If you need motion graphics, professional video editing, or any of the other skills he offers, just check out his portfolio. Folarinpearse is a friendly, fast, and talented animator who's ready to help bring your projects to life!
Services Offered by Folarinpearse:
5) AA__production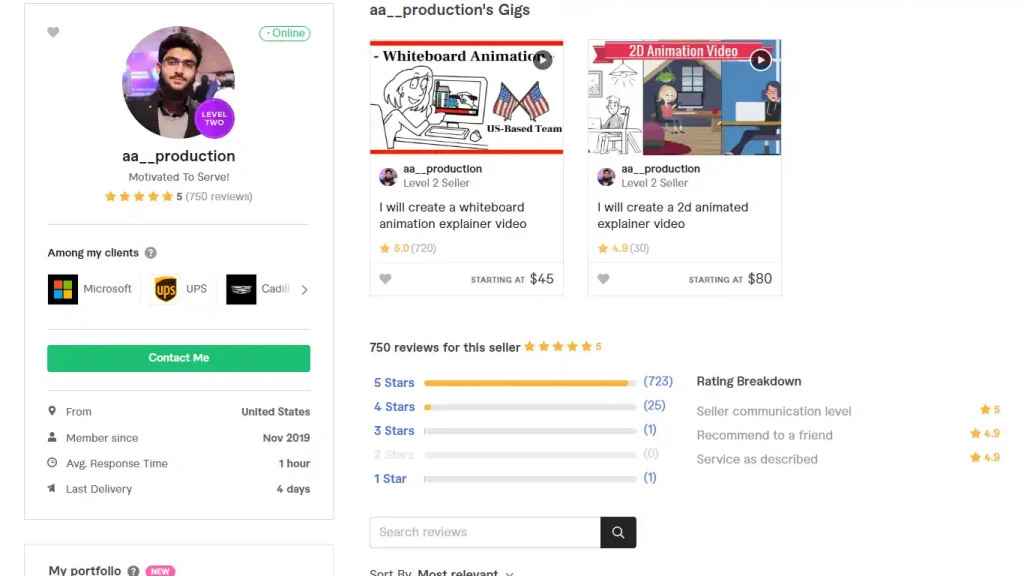 Let me introduce you to aa__production, aka Anas Asim, the ultimate professional and whiteboard/2d animation artist on Fiverr! As a LEVEL TWO Seller, he's received an incredible 752 reviews, all of them with a perfect 5-star rating! He's from the United States and has been a proud member of Fiverr since November 2019, with an average response time of just 1 hour. You can trust him to be there for you, no matter what!
But it's not just the smaller jobs that he's done – aa__production has even worked with big names such as Microsoft, UPS, Cadillac, Toyota USA, and even Fiverr itself! Impressive, right? His vision of making the world a better place by creating good and friendly connections worldwide inspires him to provide the highest quality of work to every client he connects with.
Anas is an expert in many software programs, including Adobe Photoshop, Illustrator, and Camtasia, and his skills in whiteboard animation, graphic design, video editing, and 2D animation are nothing short of amazing. Check out his portfolio to see some of his incredible work!
Anas is friendly, motivated, and eager to work with you to create something truly unique. He works around the clock, so don't hesitate to contact him anytime. Trust me, you won't be disappointed with his work!
Services Offered by aa__production:
6) Englandof3d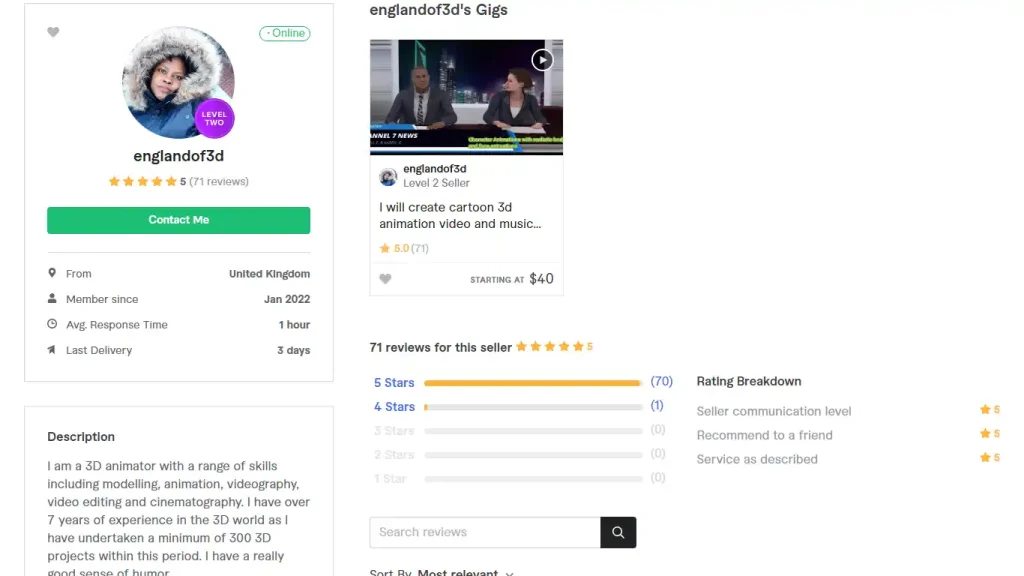 Say hello to englandof3d, a talented 3D animator on Fiverr! With her impressive 5-star rating from 71 happy customers, you can trust that you're in good hands. Based in the United Kingdom and a Fiverr member since January 2022, she's known for her speedy response times (just 1 hour on average!).
With 7 years of experience in the 3D world, englandof3d has worked on over 300 projects and has a diverse skill set including modelling, animation, videography, video editing, and cinematography. She's super passionate about her work and dedicated to delivering high-quality results that meet your needs.
Not only is englandof3d a skilled professional, but she's also a joy to work with. Her warm and friendly personality makes collaborating with her a fun and enjoyable experience. Plus, she's fluent in English, so you can be sure that she'll understand your project requirements and deliver exactly what you're looking for.
From 3D animation and design to music videos and ad animation, englandof3d has a wide range of skills that make her the perfect fit for any project. No matter what your vision is, she's up for the challenge and excited to bring it to life with stunning 3D animation. So why wait? Reach out to englandof3d today for all of your 3D animation needs!
Services Offered by englandof3d:
7) urbandiva33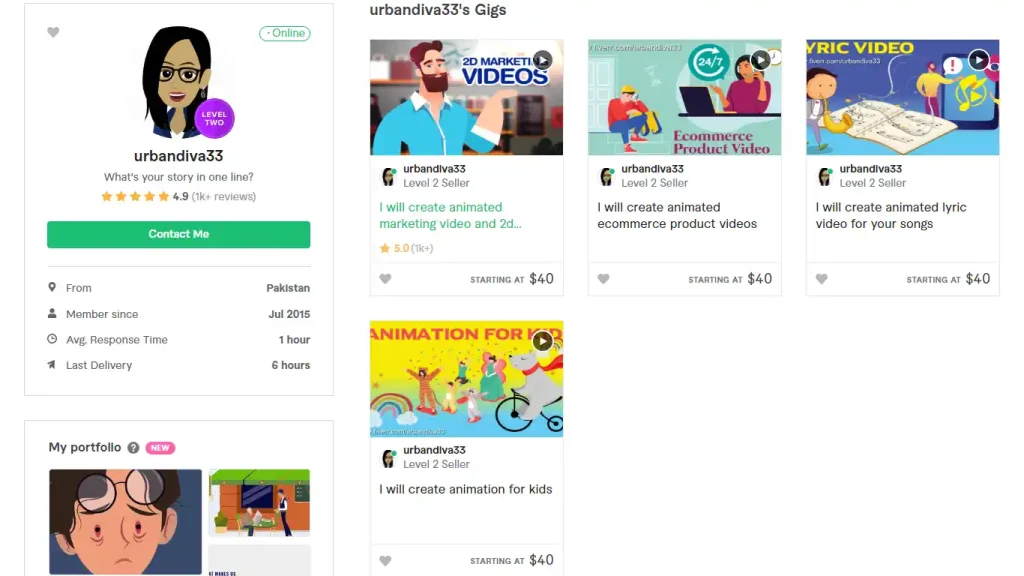 Meet urbandiva33 – the Fiverr seller who's here to bring your wildest ideas to life! With over 1,000 reviews and a dazzling 4.9 rating, she's a LEVEL TWO seller hailing from Pakistan. Since joining the Fiverr community in July 2015, she's been wowing clients left and right with her incredible skills.
As a 2D animated marketing explainer and whiteboard animation expert, urbandiva33 knows just how to create visuals that will leave your audience in awe. Whether you need to showcase a product, business idea, or upcoming event, she's got you covered. With her passion for guaranteeing results, you can trust that she'll go above and beyond to make your vision a reality.
But that's not all – urbandiva33 is also an excellent communicator with an average response time of just 1 hour. And with her fluency in English, you can rest assured that she'll understand your needs and work with you to bring your project to life.
So what are you waiting for? Let urbandiva33 take your project to the next level with her unbeatable skills and creativity. Her portfolio is just a click away, so go ahead and see for yourself why she's the one to trust when it comes to whiteboard animations, 2D animated explainers, and all things marketing-related. Trust us – you won't regret it!
Services Offered:
8) Ammarnaveed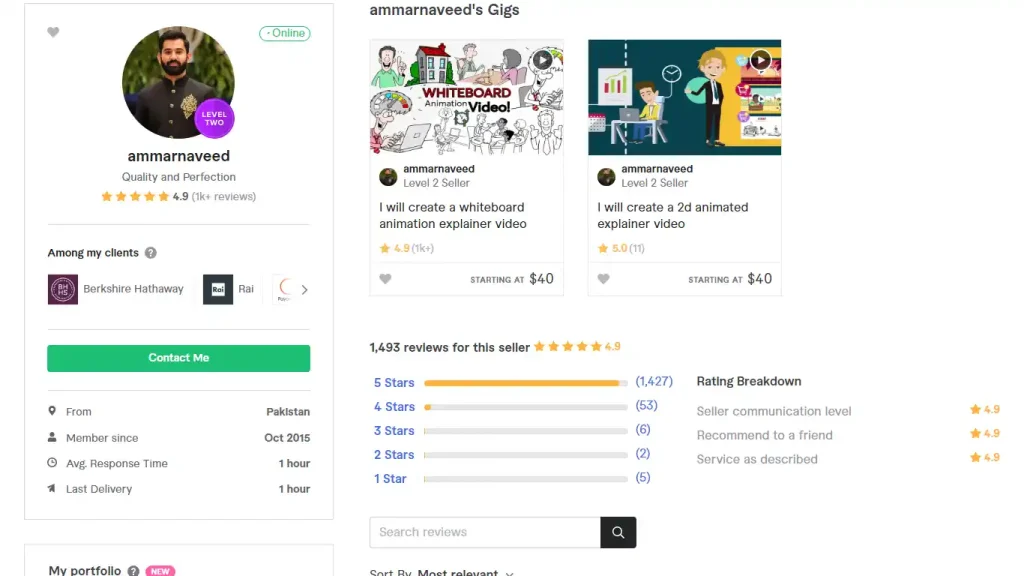 Meet AmmarNaveed – the LEVEL TWO seller on Fiverr who's all about quality and perfection. Hailing from the beautiful country of Pakistan, Ammar has been a proud member of the Fiverr community since October 2015. With over 1,000 reviews and a jaw-dropping 4.9 rating, it's no wonder he's known for his exceptional service.
As a master of creating highly engaging, customer-responsive whiteboard animations, Ammar has everything you need to take your concept or product to the next level. From visuals and doodles to script writing and voiceovers, he's got you covered from start to finish. With his professional and personalized touch, you can be sure that your project will be in the best possible hands.
But Ammar's talents don't stop there – he's also a skilled explainer video and 2D animation expert. So whether you need a whiteboard explainer or a fully animated masterpiece, Ammar has the skills and expertise to make it happen.
Services Offered:
Level 1 Video Animators For Hire
1) Anayalyrics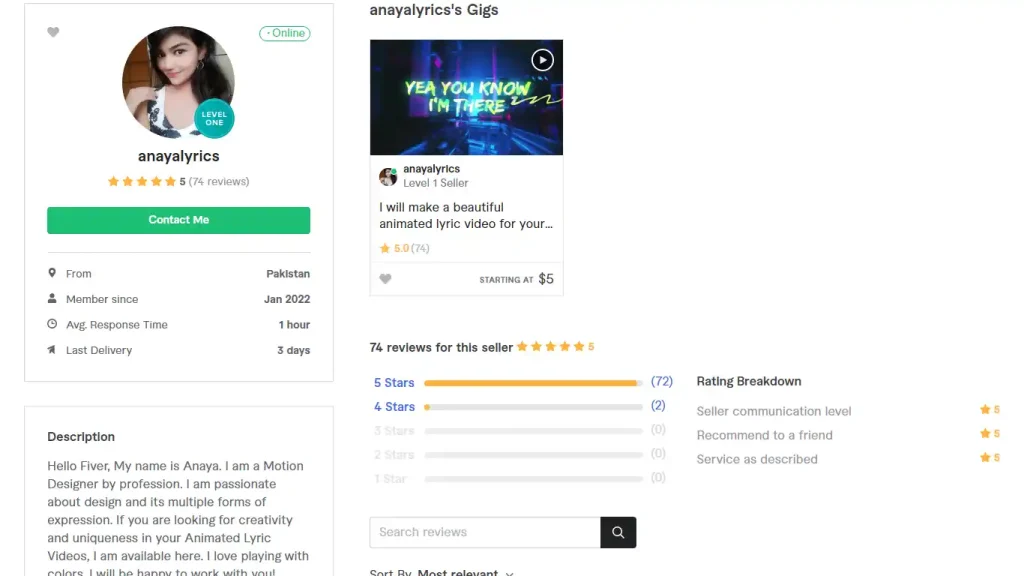 Anaya is a motion designer who loves playing with colors and creating unique and creative animated lyric videos. She has been on Fiverr since January 2022, holding Level One Seller status with 74 reviews of 5 stars each Anaya is passionate about design and its different forms of expression, which she demonstrates through her work in lyric videos, music video animation, and 2D motion graphics
Anaya is highly communicative as evidenced by her average response time of one hour and fluency in four languages: English, German (Deutsch), French (Français), and Spanish (Español) This allows her to communicate effectively with all clients no matter the language they are most comfortable speaking
Anaya takes pride in her craftsmanship; ensuring that every project she works on meets the highest standards possible while still being uniquely tailored to each individual client's needs. Every pixel is carefully placed together, forming an intricate tapestry that creates something special for both you and your audience alike! With this level of commitment does come trustworthiness – you can rest assured knowing that Anaya will take great care of any project entrusted to her hands
If you're looking for creativity and uniqueness when it comes to animated lyric videos or other types of motion graphics projects, then look no further than Anaya's profile! Contacting her could be the first step into unlocking your vision – so don't hesitate any longer – reach out today!
Services Offered:
New Talented Video Animators For Hire
1) Eugencezar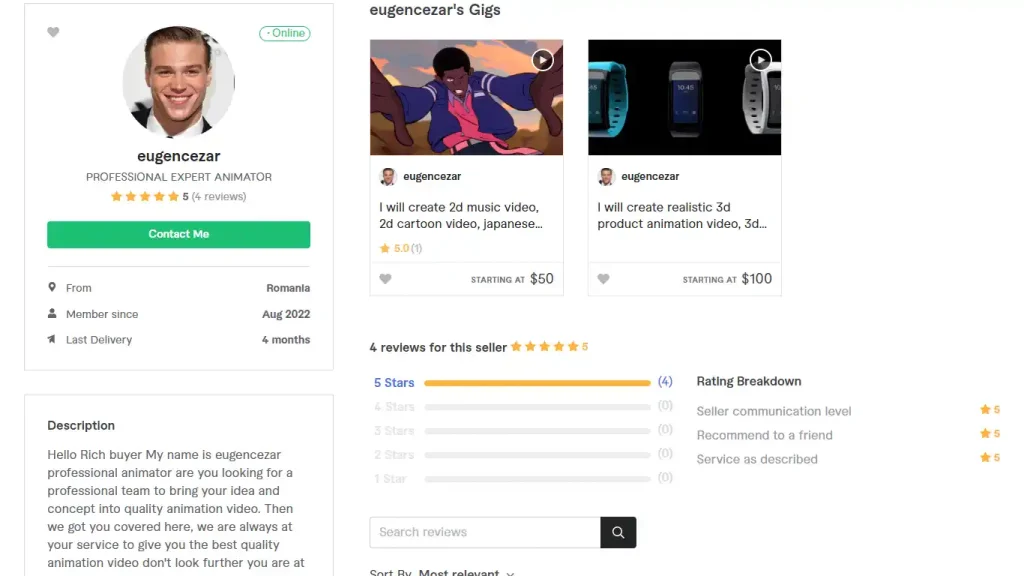 Eugencezar is a professional animator and creator who can bring any concept to life through quality animation videos. Whether you are looking for a 2D music video, 3D product animation, or Japanese anime-style visuals – Eugencezar has the expertise and technical know-how to deliver on your project goals
Eugencezar has been in the animation industry since 2022, giving him years of experience creating stunning visual experiences for clients from all over the world. He is well-versed in character design, modeling, 2D animation, and much more, so no matter what kind of creative project you have in mind, he'll be able to bring it to life with ease!
His creativity also extends beyond just animations too; his skillset includes character modeling for 3D products as well as other types of artwork such as comics or illustrations
In addition to being an experienced animator and designer with a portfolio full of impressive projects spanning various industries from entertainment to engineering, Eugencezar speaks three languages fluently: English, German (Deutsch), and French (Français).
This means he can easily communicate with people from different countries while still maintaining high levels of accuracy when translating ideas into visuals – something that is always important when working on complex projects!
If you're looking for someone who can make your ideas come alive visually, then look no further than Eugencezar – his work speaks volumes about his talent and dedication towards providing top-notch results every single time. So if you need to help turning your dreams into reality don't hesitate to reach out today!
Services Offered:
2) Llevon2D3D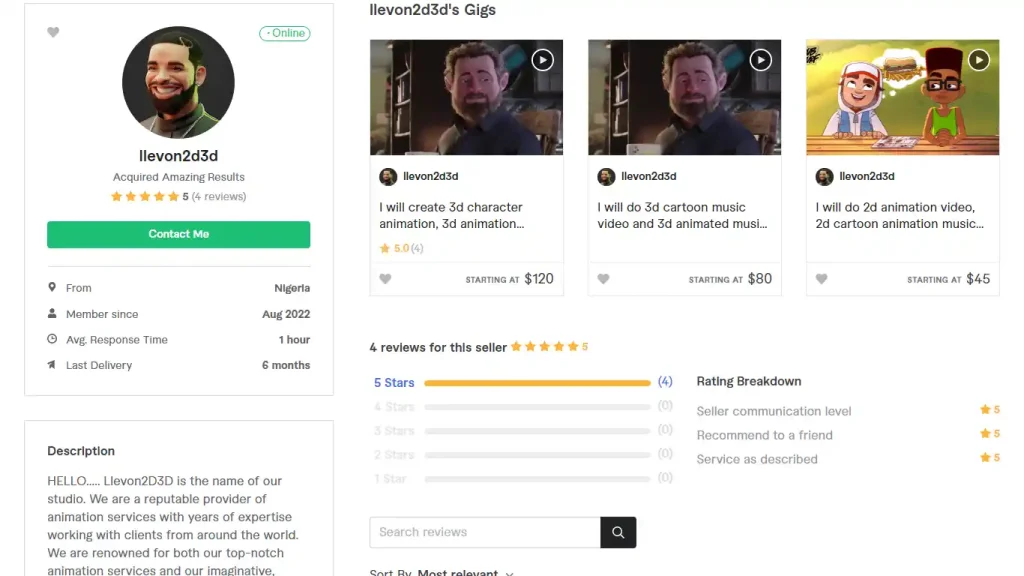 Llevon2D3D offers a broad range of 3D animation services. They have an experienced team of professionals who specialize in creating innovative, eye-catching and captivating animations. Their portfolio includes projects that range from 3D music videos and cartoon music videos to unique character designs and 3D character animations
Llevon2D3D understands the importance of staying up to date with the latest technologies and software so as to provide our customers with top-notch animation services. Their experts use various cutting-edge tools such as Autodesk Maya, Adobe Suite, or Unity for producing visually appealing content at competitive rates
They are also well aware of how difficult it can be for clients to bring their ideas into reality without proper assistance or guidance. That's why they are here – to help you make your concept come alive!
Whether you need us for just advice on which tools would best suit your needs or if you want us to create a complete project from scratch, just let them know what you need and get ready for some amazing results!
If you're looking for professional quality 3D animated creations that will leave viewers mesmerized, then look no further than Llevon2D3D! With years of experience working with clients all over the world, rest assured knowing that their team has got your back when it comes down to delivering high-quality visual products at reasonable prices. So don't hesitate any longer.
Services Offered:
3) Nazeef_irfan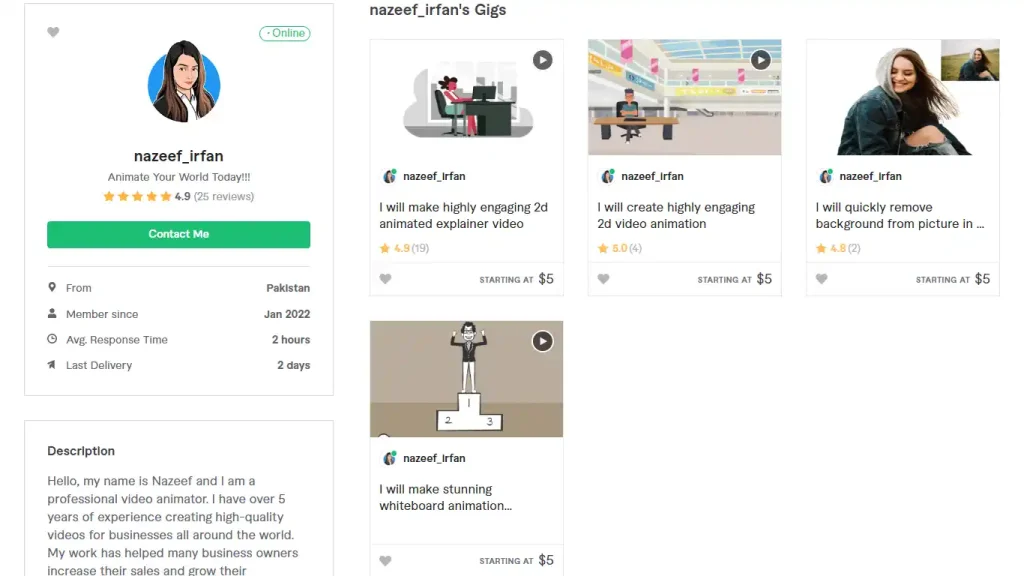 Nazeef is an experienced and passionate video animation freelancer with over five years of experience creating high-quality videos for businesses all around the world His work has helped many business owners increase their sales and grow their businesses
Nazeef takes great pride in his work, always striving to find new ways to help his clients achieve success He is fluent in English, Spanish (Español), French (Français), and Arabic (Arabic) His expertise encompasses Whiteboard Explainers, Voice Over, Background Music, Video Scriptwriting Animated Explainers, Music Video Animation, and 2D Animation Nazeef also holds a Masters degree in Computer engineering from the University of Sargodha Pakistan which he obtained in 2017.
What truly sets him apart is his dedication to quality; he believes that each project should be completed at the highest level possible so as to ensure the best results for his clients.
As such, he puts a great deal of effort into ensuring that every detail is perfect before submitting a final product; this ensures that no stones are left unturned when it comes to client satisfaction! Furthermore, Nazeef's vast experience allows him to quickly identify potential problems before they arise thus reducing any delays or unnecessary costs associated with production or post-production processes making sure everything runs smoothly throughout your project timeline while also delivering maximum value for money!
Overall, if you're looking for someone who can deliver exceptional results on time, then hire Nazeef today – you won't be disappointed! With his extensive skillset coupled with dedication and passion for what he does, you can rest assured knowing your next video animation will look amazing!
Services Offered:
Conclusion
We hope this article has given you a comprehensive look at the 18 talented music video animators for hire for your next project. With the right vision and a commitment to creativity, these animators can help make your project come to life and create a unique and powerful music video that will reach the right people. No matter which animator you choose, you can rest assured that your music video will have the perfect blend of visual artistry and impactful storytelling understanding your target audience.
Also Read: Hire 7 Best FiveM Experts for Your FiveM Project 
FAQ:
What is animation?
Animation is the process of creating the illusion of motion and change by rapidly displaying a set of static images that minimally differ from each other. It can be done through different techniques, like 2D or 3D animation, frame-by-frame animation, and more.
What is an animated music video?
An animated music video is a type of music video where the action and characters are brought to life through animation. Animating a music video is a unique way to create a visually appealing and engaging piece of content.
Why should I hire a freelance animator?
Hiring a freelance animator can be a great decision because it allows you to have a professional and unique animation style tailored to your project's needs. Freelance animators often have more flexibility in working hours, pricing, and animation styles than larger-scale companies.
What is the process for creating an animated music video?
The process for creating an animated music video can vary widely depending on the project's scope, animation style, and length. Generally, it involves concept development, storyboarding, character design, animation, and post-production editing.
Why use animation in a music video?
Animation can be used to create visual interest and impact, convey abstract concepts, or to show events and environments that are impossible to capture on video. Creating an animated music video can be an effective way to create a unique and memorable visual experience for your audience.
What is the difference between 2D and 3D animation?
The difference between 2D and 3D animation is how they represent the movement in the animation. 2D animation is done on a 2D plane and involves drawing each frame. 3D animation has depth and involves creating a 3D space for the animated objects.
What is an explainer video?
An explainer video is a short animated video that explains a product or service, often used in marketing or training. It distills complex concepts into simple and easy-to-understand content.
What is a production company?
A production company is a business that is responsible for the creation and procurement of content or goods. In the context of video production, a production company specializes in creating a wide range of videos such as music videos, corporate videos, and commercial advertisements.
How do I find the best music video animation production company?
Finding the best music video animation production company requires research and evaluation to determine the company's quality and the type of services it offers. Start by looking for reviews and portfolios of previous projects. Get in touch and ask about their animation style, pricing, and availability to make an informed decision.
How do you build high-quality animation-based videos?
Building high-quality animation-based videos requires a combination of creativity, technical skills, and attention to detail. Here are some steps you can follow to create an effective animated video:
1. Define your message: Determine the key message or story you want to convey in your video and develop a script or storyboard that outlines the key scenes and visuals.
2. Choose your style: Decide on the visual style of your animation, such as 2D or 3D animation, stop-motion animation, or motion graphics.
3. Create your assets: Develop the characters, backgrounds, props, and other visual elements needed for your animation using software tools like Adobe Illustrator or Photoshop.
4. Animate your scenes: Use software like Adobe After Effects or Toon Boom Harmony to animate your scenes and bring them to life.
5. Add sound effects and music: Incorporate sound effects and music to enhance the mood and tone of your video.
6. Edit and refine: Review your animation carefully for any errors or inconsistencies, adjust timing or pacing as needed, and make final edits before rendering the final video.
Creating high-quality animation-based videos takes time and effort, but by following these steps you can produce a compelling video that effectively communicates your message to your audience.
What are the tools used for creating 2D and 3D animated
There are many tools available for creating 2D and 3D animated content, each with their own strengths and weaknesses. Here are a few examples:
2D Animation:
1. Adobe Animate: A popular software used for creating vector-based 2D animations, as well as interactive web content and games.
2. Toon Boom Harmony: A professional-grade animation software used by studios such as Disney and Cartoon Network, with a wide range of features including rigging, compositing, and special effects.
3. Synfig Studio: A free and open-source software that allows for frame-by-frame animation and vector-based drawing.
3D Animation:
1. Autodesk Maya: A widely-used 3D animation software with advanced features such as character rigging, dynamics simulation, and motion graphics.
2. Blender: A free and open-source 3D creation suite that includes tools for modeling, texturing, rigging, animation, and more.
3. Cinema 4D: A popular software used for motion graphics, visual effects, and 3D modeling in film, television, and advertising.
These are just a few examples of the many tools available for creating 2D and 3D animated content. Depending on your needs and skill level, there may be other options that are better suited to your project.
How long does it take to make a 4-minute animated video?
The time it takes to create a 4-minute animated video can vary depending on the level of complexity and detail involved in the animation. Generally speaking, it can take anywhere from several weeks to several months to produce a high-quality 4-minute animated video.
The process typically involves several stages, including scriptwriting, storyboarding, character design, animation, sound design, and post-production. Each stage can be time-consuming and requires careful attention to detail to ensure that the final product meets the desired quality standards.
Factors that can affect the production timeline include the number of characters and environments involved in the animation, the level of detail required in each frame, and the complexity of any special effects or motion graphics that are included.
To ensure that your 4-minute animated video is completed on schedule and to your satisfaction, it may be helpful to work closely with an experienced animator or animation studio who can provide guidance and support throughout the production process.